2012 Outside the Walls Projects
Provided below is a listing of projects undertaken by Outside the Walls during 2012 in Washington County Indiana.
November
12-31 Rent Denied
12-32 Rent Denied
12-33 Ramp
12-34 Energy Assistance
12-35 Mobile Home Repair
12-36 Energy Assistance
12-37 Energy Assistance
12-38 Rent Denied
12-39 Energy Reconnect Denied
12-40 Propane assistance
12-41 Homeless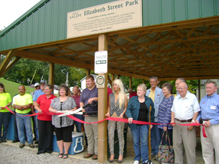 Elizabeth Street Park Shelter House
Fall 2012
Volunteers from Outside the Walls Washington County, First Christian Church, Good Samaritan Inn along with the City of Salem Parks and Recreation Dept. recently came together to build a Shelter House in the Elizabeth Street Park in Salem. A ribbon-cutting ceremony and cookout at the new Elizabeth Street Park Shelter will take place on Friday, September 28th 2012 from 12:00noon-1:00pm.
October
12-29 Water Heater
12-30 Mobile Home Repair
August/September
12-23 Roof Repair
12-24 Roof Repair
12-25 Water Heater
12-26 Home Expenses
12-27 Energy Assistance
12-28 Water Heater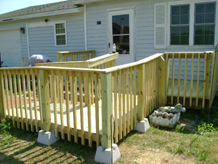 Handicapped Accessible Wheelchair Ramp Project
Summer 2012
June/July
12-12 Energy Assistance
12-13 Wheelchair Ramp
12-14 Wheelchair Ramp
12-15 Utilities --no funds
12-16 Home Repair - Denied
12-17 Energy Assistance
12-18 Apartment
12-19 Home Repair - Denied
12-20 Energy Assistance
12-21 Energy Assistance
12-22 Home Repair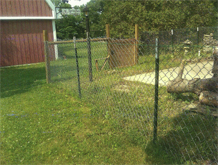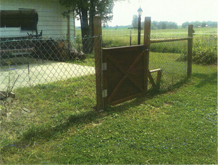 To Washington Co Outside the Walls:
The other month your group installed a fence on our back patio to keep our 2 schnauzers in. I have a light part time job at my grandson's business, answering the phone and collecting rent on his rental property. When I am gone, my wife is very unstable on her feet. When she tries to walk the dogs, she has fallen down several times, and has had a hard time getting up.
You cannot believe how this fence has helped us, with our dogs and keeping my wife from falling down. The dogs are happy and we are happy with our fenced in area for our pets.
We want to say Thank You for what you have done for us. Here are 3 pictures of the project.
Also thank you Mr Ray for the great job.
Sincerely,
Name Withheld
May
12-09 Wheelchair Ramp
12-10 Energy Assistance
12-11 Rent
April
12-04 Water Bill
12-05 Rent - Denied
12-06 Energy Assistance
12-07 Energy Assistance
12-08 Energy Assistance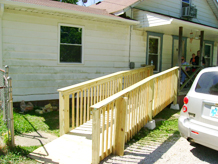 Handicapped Accessible Wheelchair Ramp Project
Spring 2012
January/February/March
12-01 Firewood
12-02 Firewood
12-03 Wheelchair Ramp - Denied
199 Project on Hold
208 Home Repair - Denied
12-03A Energy Assistance by Trustee
210 Home Repair
211 Health Department
214 Dog Pen
12-01A Water Leak Repair
12-02A Energy Assistance
150 Yard Mowing
195 Electric Clothes Dryer