2010 Outside the Walls Projects
Provided below is a listing of projects undertaken by Outside the Walls during 2010 in Washington County Indiana.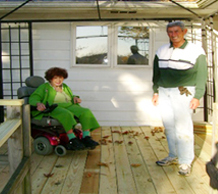 Porch/Wheelchair Ramp Project
Summer 2010
Outside the Walls is a not-for-profit organization striving to give assistance to people enduring occasional/unexpected hardships and circumstances in Washington County, Indiana. Outside the Walls believes in providing a hand up and not a hand out. Outside the Walls is a faith based non-denominational organization working through gifts, grants, donations and endowments. All contributions will be used to provide necessary resources to deserving families in Washington County. Our hope is to never have to turn anyone away due to lack of funding or resources.